The Motherland Project
[Reparations for Slavery]
Mrs. Sharity Ross-Petit has accepted the position of Director of the Center's Motherland Project. She will work hard to find African American pioneers who want to reestablish their roots in Africa. This will hopefully be the beginning of a large project that will reverse the African scattering. The Center will request grant money from various organizations to fund this worthy project. Generous funding will enable the CPD to provide resettlement assistance and benefits to pioneers who desire to relocate in places like South Africa or Western Africa.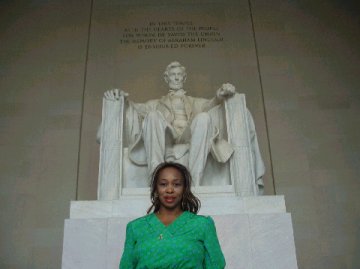 Mrs. Sharity Ross-Petit in front of the Lincoln Memorial in Washington DC.
Anyone interested in this project should please contact Mrs. Sharity Ross-Petit, Director of the CPD's Motherland Project at (301) 990-8983.

Reparations for Slavery / Repatriation
The Center for Perpetual Diversity supports the idea of reparations for slavery. Millions of Africans were wrongfully taken from their homes in Africa to be enslaved in America. It is our moral obligation to return the descendants of these people, regardless of the cost. If we fail to do so, the cost will be far greater. Simply giving money is not really social justice and will do nothing to stop racism. True reparations for slavery involves correcting the wrong which was done.
One of the Center's goals is to restart a program which was active for several decades prior to the 1860s. This will hopefully be the beginning of a large project which will reverse the African Diaspora similar to the way it was described in the epic novel, White Flight by J. F. Schneider.

A brief history of American repatriation efforts.
The American Colonization Society (ACS) was formed in 1817. It bought land around what is today Liberia. In 1835, unarmed American settlers in Liberia were massacred by native Africans who were upset by disruption of the slave trade which was very profitable for them. But this did not deter the settlers. In 1847, the colony became an independent nation.
The ACS tried to persuade the United States Congress to fund its programs but was never successful. It did manage to get some money from several states. In 1850, Virginia set aside $30,000 per year to help the ACS repatriation effort. During the 1850's, the ACS also received thousands of dollars from Maryland, Missouri, New Jersey, and Pennsylvania. By 1867, the ACS had returned more than 13,000 former slaves to Africa. Unfortunately after the Civil War, when many Blacks were anxious to go home, Whites had lost interest in the project. A few million dollars wisely spent at that time would have solved all of our racial problems and made our contribution to world diversity more secure.
Marcus Garvey achieved the most successful attempt at Black independence by a Black leader. Around 1920, Garvey tried to organize such an effort. He established the Universal Negro Improvement Association which was the largest Black political organization at the time with chapters in South America, Africa, the Caribbean and even Europe. He started a passenger ship company called the Black Star Line for the purpose of returning Blacks to their homeland in Africa. Unfortunately America's leaders at that time were just as stupid as they are today. Most white Americans opposed Garvey and his visionary ideas; eventually he was deported.
The National Association for the Repatriation of Africans is another organization with the same goal.
To contribute time or money to our repatriation effort, send email to the director at Jims172003@yahoo.com.


Volunteer

If you want to volunteer to be repatriated or help in another way please email us at: director@perpetualdiversity.com.